Updates and enhancements are typical for Microsoft Teams, especially over the last few years. Businesses can get more done, in less time, with seamless collaboration between teams, no matter where they're located—and now there's even more value!
While the Teams terrain has seen consistent improvement, 2022 has brought about some massively beneficial changes. Let's take a look at the advancements Microsoft Teams has most recently put in place for collaboration, chats, calls, and meetings; drop a comment at the end with your questions.
1. Collaboration and Chat Developments
The collaboration and chat features now spotlight a variety of impressive updates. 
"Manage a Project" Template
Businesses can join Teams template options with SharePoint Online to maximize creativity with users utilizing the default templates to form new teams. For example, the "Manage a Project" template saves steps and increases productivity by automatically applying all the related SharePoint components, channels, and apps.
You and your project managers will love this one!
Adobe PDF Experience
Another new way to streamline your day-to-day is with the latest Adobe PDF experience. In Teams, you can now set the Adobe Acrobat Teams app as your default PDF manager. 
Without a subscription to Adobe or an Adobe ID, tenant users will be able to open PDF files from chats, files, or channels directly in Teams. No-subscription capabilities include viewing bookmarks, searching a PDF, and commenting on/annotating a PDF. 
A paid subscription will open up more advanced features, however, this is an upgrade you'll notice.
Group Chat "Suggested Replies On" Feature
This is the handiest new way to reply quickly. With one click, you can choose a suggested response that's been generated by machine learning based on the message you've just received. Helpful for repetitive tasks and one-handed multitasking, this is a welcome change.
Additional Collaboration & Chat Features
Here are a few more noteworthy additions that you need to know about.
Video Snippets
Users can make chat conversations more personal with short video clips that can be recorded, sent, and viewed on Teams' desktop version. 
Use this feature to free up your time and send videos instead of scheduling calls or meetings, keeping your team focused and connected. This is the new version of chatting things over at the watercooler!
Pop-Ups for Scheduling
Scheduling is simplified within Teams calendars by the ability to click on a pop-up icon and bring up existing meetings while you're creating a new one. With all tasks/events/chats available at the click of a button, it's much easier to coordinate and add new tasks without overlap. Never double-book yourself again.
Edit File Names
Finally, users can rename or delete files within a channel or a OneDrive folder for teams, giving you more opportunities for customization and file housekeeping.
2. Improvements to Microsoft Meetings
Users have already been able to "pop out" a window for calls, meetings, and chat for better visibility in Teams. Now, users can access the feature to see shared content, an easy way to stay engaged in the conversation while keeping the content of topic visible.
Assign Seats
With this feature employed in Together mode, participants can be assigned certain seats to make virtual meetings feel more personal.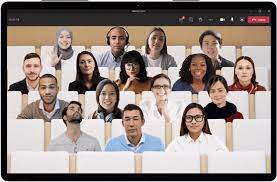 (Source: Microsoft Tech Community)
A simple drag-and-drop puts everyone in the right seats and adds a dose of personality to the standard video conference format.
3. Microsoft Teams Calling & Certified Devices Updates
Teams users now have access to a wide range of call history information, including:
How calls arrive.

If calls were forwarded or transferred. 

How calls are handled once they've been received.
From sales to customer support and others, this additional call history data will help them make smarter decisions, direct attention to problem areas and use real insights to guide staffing, strategy and more.
In addition, users now have access to recordings of call details and transcriptions, a big plus for quality control and compliance.
Contact Groups
Inside the calls app, on the right pane, Teams users can create Contact Groups. They can add or edit memberships right inside the app, streamlining future calls and meetings with groups focused on a specific project, topic or post-work happy hour.
New Teams Certified Devices
Take a look at the latest certified devices:
Neat Frame
This personal video device is portable and easily pairs with desktop computers and laptops. It's perfect for a variety of work situations, including work-from-home, in a focus pod, or for shared desks. 
Users can leverage Teams from the Neat Frame to sync their calendars, files, and chats in one spot.  
Crestron Flex
This display provides a collaboration, workflow management, and video-conferencing solution that's easy to use. Plus, its functionalities mean other devices are freed up for additional tasks.
Sony YY2969 Earbuds
Wireless audio is here. These Sony LinkBuds provide convenient access to meetings and calls can be managed with a simple tap on the earbuds. 
These headphones can also be used for joining calls, receiving calls, and raising a hand during a meeting. And, users can switch between desktop and mobile without losing their connection. 
4. Teams Premium Rolls Out Live Translated Captions
Thanks to AI, a premium license will now give users access to live-translated captions in 40 languages, including Arabic, Hindi, Spanish, French, German and many others. This advancement will break down the language barriers that have made communication clumsy and inefficient, a major bonus for global, multilingual teams.
Companion Mode for Android Users
There's a little something for Android users, too: the updated companion mode provides seamless access to chat features, Microsoft Whiteboard, as well as live reactions. 
Here's what else Android users can look forward to:
Easily access meetings.

Device controls.

Quick options for joining discussions.

Simple PowerPoint casting. 

Turn cameras on and off.

Mute the room. 

Join a meeting with a single device tap.

Adjust mobile-device audio.
5. Power Platform Changes & Custom Development Updates
Inside the Power Platform and Microsoft Teams connected landscapes, administrators can oversee third-party application subscriptions that have been purchased from the Teams Admin Center. 
Also within the platform, more licenses can be added for subscriptions that have already been purchased, and users can upgrade, downgrade, or cancel subscriptions. 
With the recent updates, users now only have to approve updates once for each app and the changes will extend to all channels, meetings, and chats.

6. Updates to Admin & Management Features
Within the Microsoft 365 Admin Center and all equivalent graph APIs, the "related usage" report received some improvements to increase accuracy and consistent UX across all areas. This is managed by using the same sources of data as the Microsoft 365 Teams solutions.

7. Upgraded Features for Education, Government & Frontline Workers
Industries-focused versions of Microsoft Teams have been given updates, too.
Education
The assigned-seat function (mentioned above) is one upgrade teachers and students will love. Here are a few others:
OneNote Class Notebook viewer for Teams mobile.

Instant polls.

Insert online videos.

View parent contact information in Teams mobile.

Education Insights can help pinpoint those needing more help.

Plus, new features for tracking projects and tasks.
Frontline Workers
Approval processes got a big upgrade. Now, users can create approvals as PDFs and share or print them as needed. Approvals can also be integrated with SharePoint lists and can be tagged in Teams to keep everything streamlined.
Government
With the latest updates, government workers will now have access to an abundance of new features, including:
Android's Companion Mode is Upgraded
365 Government Community Cloud (GCC), Government Community Cloud-High (GCC-H), and Department of Defense (DoD) Teams users get quick and easy access to tools for meetings, including joining and leaving. 
Improved App Usage Reports
This update impacts the Line of Business apps and helps users track and assess usage metrics in a specific period of time. 
Firefox Meeting Support
Now users can screen-share with the Firefox browser through Teams Meetings.
VoIP Calls Get On-Hold Music
DoD and GCC-H users can utilize music-on-hold, call transfers, and consultative transfers. Overall, government workers get a new level of call functionality they'll quickly notice.
Connectors
Newly available to GCC users, Teams Connectors can customize the range of capabilities to fit their needs. 
Support for Live-Share SDK
With no need for back-end code, Teams Meeting apps can become a collaborative experience for multiple users. Participants get access to features like cursors, inking, annotations, and more that make collaboration easier than ever.
Text Prediction for Mobile
When replying with text via Teams for mobile, this new feature can anticipate responses, saving time for users with suggested words/phrases.
With the popularity of Microsoft Teams and growing suite of features, expect to see even more benefits to efficiency and productivity soon.