Data backup and protection are the foremost concerns of Datto. But with so many products to choose from, how do you know which fully featured device is right for your business? In this article, we're going to compare two proprietary Datto devices, the SIRIS and the ALTO.

For starters, what's the difference between the SIRIS and the ALTO? The easiest way to distinguish these devices is by thinking about the kind of business that would use them.

The SIRIS if great for medium to big businesses like MSPs that require extra cybersecurity features, on top of the standard secure Datto policies. On the other hand, the ALTO includes standard Datto features made specifically for businesses without enterprise-level business continuity needs.

What is A Datto Device?

Datto empowers businesses to work uninterrupted with business continuity and data backup solutions. The company offers both hardware and software solutions built with robust cybersecurity features in place, designed to prevent data loss and protect businesses from ransomware attacks.

Datto's seamless combination of business continuity and disaster recovery (BCDR) in just one device allows speedy restoration in just a matter of minutes, which is considered a top-level response for industry-level devices.

In this article, we are going to uncover the unique benefits of each Datto device that will help you decide which one to purchase for your data, backup, and business continuity needs.

Datto SIRIS VS Datto ALTO: What's The Difference

In truth, choosing between the SIRIS and ALTO isn't so much about getting better features. As a business owner, you're not missing out on Datto's standard cybersecurity and data protection features if you choose one or the other.

Both Datto lines are built with robust cybersecurity features and are configured with proprietary Datto technologies that make both an industry-standard when it comes to BCDR devices.

For instance, both devices use Datto's unique Inverse Chain Technology, which is Datto's way of simplifying the backup process. Compared to the traditional backup process, Datto's Inverse Chain Technology directly converts the data into a virtual machine for instant use.

Instead of relying on disks and complicated backup procedures, the Inverse Chain Technology prevents backup corruption by using the latest backup as the base image. It is also immediately usable, with no conversion or restoration necessary.

Ultimately, the difference comes down to capacity, virtualization options, and additional backup features, such as encryption.

At A Glance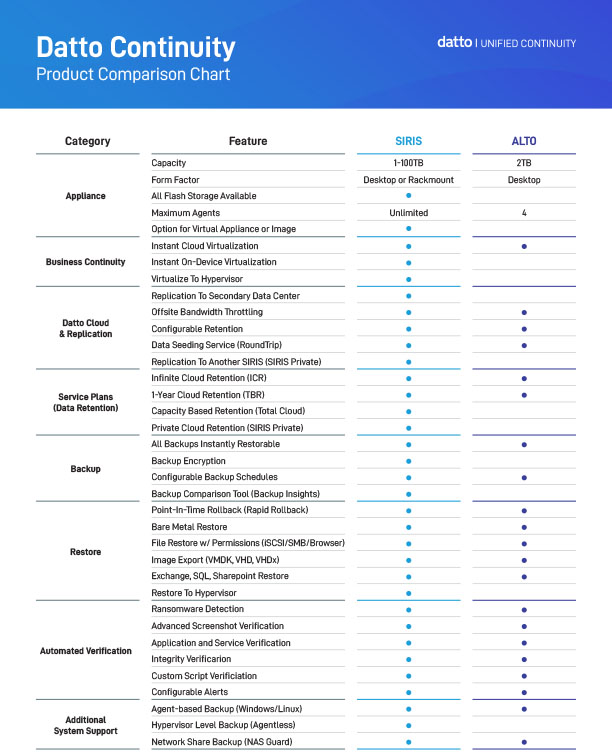 Datto SIRIS: High-end Device For Medium To Big Businesses

The Datto SIRIS is considered one of the best backup and disaster recovery solutions on the market. It's a high-end device with powerful performance features, built with top-level cybersecurity in mind. It's an appliance best suitable for medium to big businesses.

This line of devices boasts additional security features, which makes sense since it's mainly targeted towards managed service providers (MSPs). Here are the main advantages of using Datto SIRIS:

Why Choose Datto SIRIS

1) Bigger Capacity

Compared to the Datto ALTO, the SIRIS hardware boasts a bigger capacity. The ALTO systems cap at 2TB per device, while the SIRIS can go up to 120TB, depending on the model you choose. The Business model of the SIRIS 3 offers 500GB to 3TB capacity, while the Pro and Enterprise models offer 1TB to 10TB and 6TB to 120TB capacity, respectively.

With these capacities also come more powerful processing capabilities:
| | | | |
| --- | --- | --- | --- |
| Datto SIRIS 3 | Business | Pro | Enterprise |
| CPU | Intel Xeon D 1521 | Intel Xeon D 1541 | 2x Xeon E5-2620 – 2695 V3 |
| RAM | 32 GB | 32 to 48 GB | 64 to 512 GB |
2) Appliance Features

For starters, the SIRIS devices can come as a virtual appliance or image, whereas the ALTO remains as a physical appliance. The physical version of the SIRIS has all flash storage options available and unlimited maximum agents for seamless compatibility.

3) Private Cloud Retention

Backups are restored in your own private cloud called SIRIS Private, whereas backups from the ALTO device are stored in the Datto cloud.

4) On-Device Virtualization

The SIRIS can work with your existing servers and use these as virtualization devices. This gives your business the option to have virtual copies on-hand, minimizing downtime and restoration time when disaster does strike. Just like the ALTO, the SIRIS also provides instant virtualization on the cloud for uninterrupted work.

5) Hypervisor Compatibility

Just as with additional servers, the SIRIS gives you the option to virtualize to on-site hypervisors, serving as another layer of protection against data loss. Even if a virtual machine experiences a crash, error, or malware attack, these vulnerabilities won't affect other virtual machines, even if they are on the same hardware.

6) Backup Encryption

On top of backup insights, the SIRIS gives you access to end-to-end backup encryption, ensuring your data is completely secured while being copied onto the cloud.

Datto Alto: True Data Protection For Small Businesses

If the SIRIS feels too expansive for what you need, the ALTO provides a comprehensive continuity solution better suitable for small businesses. Like the SIRIS, the ALTO allows instant virtualization to the Datto cloud – an ideal solution for businesses with cloud-based servers and don't have their own infrastructure.

The Datto ALTO has business continuity and data protection designed specifically for businesses without major resource demands. Just like the SIRIS, the ALTO is a fully featured device engineered for limited interruptions and maximum business continuity.

Here are the top features of the ALTO, which can also be found in the SIRIS:

1) Screenshot Verification

To ensure that your backup copies are viable and effective, Datto automatically and regularly boots backups to verify bootability. This gives the system time to catch bootability issues in preparation for data corruption and downtime. A screenshot is sent to end-users as proof, which will give you peace of mind knowing your data is safely and securely backed up.

2) Image-based Backup

Old backup techniques involved copying every single file from the drive or network, which excludes all applications and other software. Datto uses image-based backup techniques that are capable of copying and restoring your OS, its existing settings, as well as your files and applications. Image-based backups allow you to pick up where you left off, regardless of which workstation you're using.

3) Infinite Cloud Retention

Having a Datto device gives you unlimited access to their secure Datto cloud. For a monthly fee, you can keep different versions of your system uploaded on the Datto cloud, up until disaster strikes. Your data is maintained and remains safe in storage for an indefinite amount of time.

4) Rapid Rollback Features

Datto promises a recovery time objective (RTO) of as little as five minutes. In the event of malware, data loss, and other disasters, the ALTO can initiate rollbacks to previous versions. Doing so removes ransomware, restores the system to its previous settings, and retrieves lost files.

Discovering The Best Datto Device

The first step to virtualized protection is figuring out what your cybersecurity needs are. Remember: the more expensive option isn't always the answer.

Ultimately, we recommend getting the SIRIS if you're in the banking, legal, education, and corporate industry so you have access to enough resources. More importantly, these industries typically have IT compliance policies that require you to have strict cybersecurity in place for your company and your clients.

If you're a growing business that needs adequate support and enough firepower, the ALTO works wonders in smaller business settings.

The good news is that you're fully protected and supported, whichever device you choose. Datto offers helpdesk services to its customers so they can help with troubleshooting and other device issues.